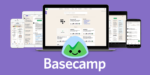 Long Business Description
Basecamp is a project management app that you can access in your browser and on your phone. It gives you the tools you need to set up to-dos, a schedule, create and upload documents and files, message and chat with your colleagues, and check in regularly with your group—all in one place!
Whether you are working alone and need to get organized with your work or use it to collaborate on a project, with work or something personal, Basecamp makes it easy. It's quick to set up and if you are consistent in using it it should make communication with your team a lot easier. Especially teams that are virtual.
An additional feature with an upgrade is the ability to deal with clients within Basecamp. You can add them in and give them limited viewing/editing rights, but make them an integral part of your work.