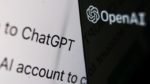 Long Business Description
ChatGPT is a natural language processing tool driven by AI technology that allows you to have human-like conversations and much more with a chatbot. The language model can answer questions, and assist you with tasks such as composing emails, essays, and code.
Usage is currently open to public free of charge because ChatGPT is in its research and feedback-collection phase. As of Feb. 1, there is also a paid subscription version called ChatGPT Plus.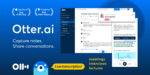 Long Business Description
Otter.ai is a web application which provides speech to text transcription. Otter converts live speaking into a written transcription. A consumer evaluation reported that the app's operators make no promises of privacy. Otter was trained with machine learning on millions of hours of audio recordings.

Long Business Description
Jasper is the generative AI platform for business that helps your team create content tailored for your brand 10X faster, wherever you work online.