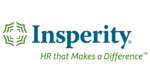 Long Business Description
Insperity's mission is to help businesses succeed so communities prosper. So, it was a natural fit that we
would join forces with them for expertise in human resources administration. Insperity will take on your time-
consuming HR tasks so you have more time for what matters most to you and your business.
No matter your human resources needs – payroll, recruiting, workers' compensation, benefits, performance
management or retirement – Insperity has HR specialists with the expertise to advise and support you.
Blog Post: https://ceoblognation.com/2019/11/announcing-our-new-partnership-with-insperity-sponsored-post/